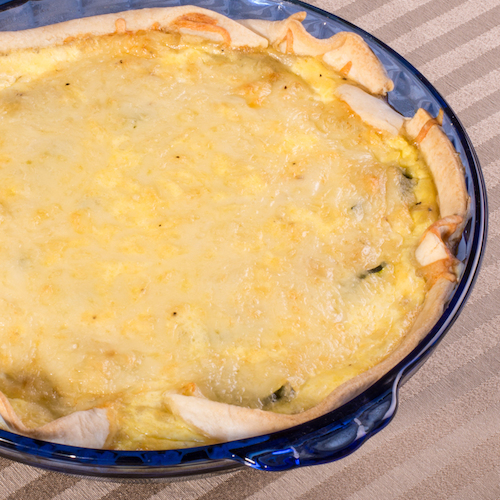 Cheese & Vegetable Pie
Warm up the kitchen with this delicious combination of cheese, zucchini and peppers. This recipe is sure to be a dinner favorite!
Ingredients
1 tbs butter
1 cup onion (chopped)
to taste salt & pepper
2 tbs flour
6 oz shredded Swiss cheese
1 pre-baked pie crust
2 eggs (beaten)
1 cup half & half
1 cup zucchini (sliced)
Steps
Sauté onion and zucchini in butter in skillet until tender, about five minutes; season with salt and pepper and stir in flour. Cool.
Toss with cheese and arrange in bottom of crust.
Mix eggs and half & half; pour into crust.
Bake at 350° F until pie is browned and set, 40-45 minutes.