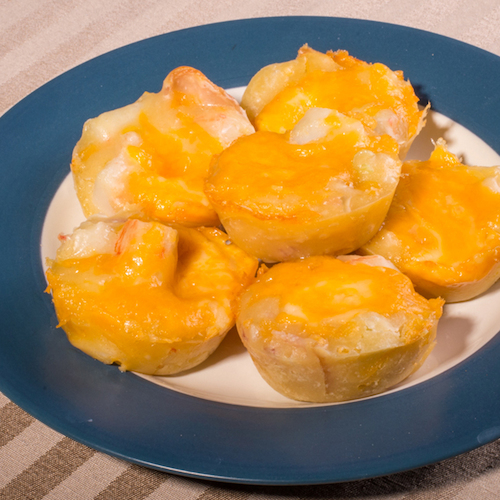 Cheesy Treasure Muffins
Turn up the flavor with these delicious cheesy, bacon and green onion filled muffins! With a bite of spice in each muffin, these are sure to be a crowd favorite.
Ingredients
2 cups lobster meat
1 egg, beaten
1 cup milk
1/4 cup butter, melted
1/4 cup sugar
2 cups self-rising cake flour, unsifted
2 cups green onions, chopped
4 slices bacon, cooked, drained and crumbled
1/2 cup Swiss cheese, shredded
1/2 cup sharp Cheddar cheese, shredded
8 oz Jalapeño Jack or Colby Jack cheese, cut into 3/4-inch cubes
Steps
Preheat oven to 400°F.
In a bowl, mix egg, milk, butter and sugar. Slowly stir in flour.
Fold in the green onions, bacon, Swiss cheese and 1/4 cup Cheddar cheese.
Fill muffin compartments 1/3 full.
Place one cube of Jalapeño Jack cheese in middle of each muffin compartment on top of batter.
Continue to fill muffin compartments with batter until 2/3 full.
Top with remaining Cheddar cheese.
Bake muffins for 15 to 20 minutes or until golden brown.
Let stand 5 minutes before removing from pan.
Serve warm.