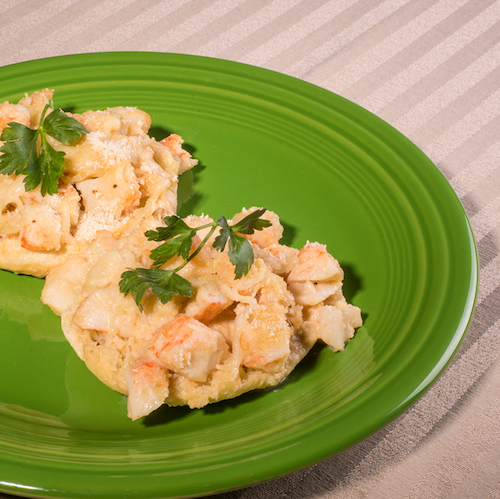 Creamed Lobster & Swiss Cheese English Muffins
The delicious combination of cheese, lobster and English muffins is sure to become a family favorite!
Ingredients
2 cups lobster meat
1 tsp Worcestershire sauce
to taste Tabasco sauce
6 English muffins
4 oz shredded Swiss cheese
1/2 cup bread crumbs
3 tbs melted butter
3 tbs flour
1.5 cups milk
1/2 tsp salt
to taste pepper
Steps
Flake lobster meat; stir in Worcestershire sauce and hot pepper sauce. Add enough white sauce to lobster mixture to make a stiff mixture.
Toast buttered muffin halves under broiler until lightly browned. Cover muffin halves with lobster mixture.
Sprinkle each with a little shredded Swiss cheese and buttered bread crumbs.
Bake at 400° for 10 to 15 minutes, or until bread crumbs are lightly browned and cheese is melted.
For sauce:
Melt butter in a small saucepan; stir in flour until well blended and smooth. Gradually add milk and stir until thick and bubbling.
Season with the salt and pepper. Use in creamed lobster (above).