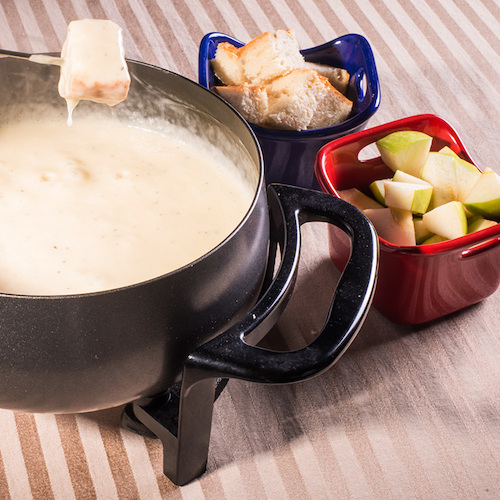 Swiss Fondue
With the subtle yet savory blend of Gruyere cheese, white wine and Swiss cheese, fondue has never tasted so delicious.
Ingredients
16 oz shredded Swiss cheese
8 oz shredded Gruyere cheese
1 cup dry white wine
2 tbs flour
1/4 tsp nutmeg
1/4 tsp pepper
1/4 tsp salt
green apple for dipping
veggies for dipping
bread for dipping
Steps
Mix flour, salt and nutmeg together. Set aside.
Simmer wine in fondue pot.
Add cheeses, around 4 ounces at a time.
Stir after each addition until cheese is melted.
Serve with cut-up French bread, apple chunks or raw veggies.