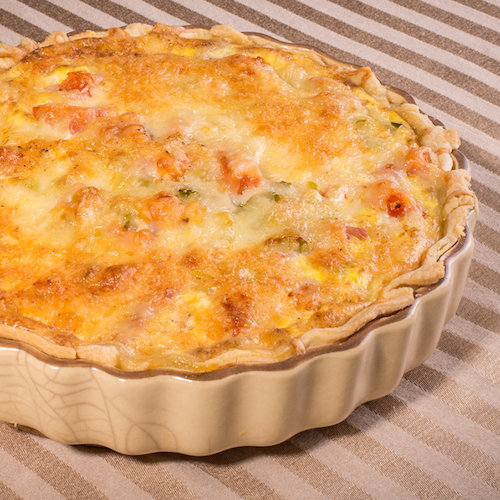 Ham, Asparagus & Swiss Quiche
Savory ham, asparagus and cheese are the perfect combination for your next brunch! Bursting with flavor, your friends and family won't be able to resist!
Ingredients
1 refrigerated pie crust
2 tbs. butter
1 large leek, sliced (heavy green tops discarded)
8 oz. fresh asparagus spears (chopped)
8 oz. ham, chopped
2 tomatoes, coarsely chopped
3 eggs
1/2 cup half & half
1/4 tsp. ground nutmeg
1 dash of hot sauce
8 oz. swiss cheese, shredded
Steps
Preheat oven to 375.
Using a 10in quiche pan, prepare the pie crust according to instructions for a one-crust pie. Trim excess dough and refrigerate.
Sauté leeks and asparagus in butter over medium-low heat until tender. Reduce heat to low.
Add ham and cook mixture until heated through. Remove skillet from heat and stir in tomatoes.
In a separate bowl, combine eggs, half & half, nutmeg and hot sauce.
Place vegetable and ham mixture into prepared pie crust.
Add cheese and pour egg mixture over ingredients.
Bake at 375° for 45 to 55 minutes.